The real secret to better search is simple.
It requires arming developers with the knowledge of those most familiar with the users – marketing, content curators, and domain experts. Flax can help you build an effective search team from across the business, develop a search strategy and tune your site search. A series of guest blog posts written by Karen Renshaw, ex-head of site search at RS Components, explain some steps you should consider when tuning site search.
Poor interaction between developers and content experts causes site search quality to slide backwards. Content experts have little insight into how or why search engines behave. Developers, on the other hand, lack understanding of what site search should do. Despite their technical expertise, they rarely have the skills to know what "relevant" means for your application and business. Tuning relevance is therefore a difficult process – fix one problem and it might have a negative affect somewhere else!
We recommend Quepid, a powerful tool for recording and displaying relevance for thousands of queries. Using this tool, content experts can show what they judge as relevant and developers can instantly view the impact of configuration changes – across the board. Quepid works with both Apache Lucene/Solr and Elasticsearch and optionally with data from your legacy search engine – allowing you to be sure that your search upgrade is performing.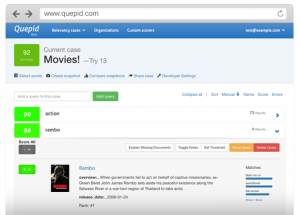 Flax are the UK resellers for Quepid, built by our partners OpenSource Connections – contact us for a demo.