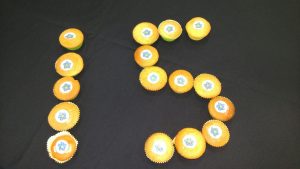 To mark Flax's 15th anniversary we ran two Lucene Hackdays recently, in London and Boston. I even made some Flax cakes! The London event was attended by around 20 people from companies both large and small and kindly hosted by Bloomberg (who are currently very active in the Lucene/Solr community). We split up into a number of groups to work on a range of projects. Erica Sundberg from Blackrock took a group of beginners through installing Solr and indexing their first collection, while also considering how a minimal Solr example could be built (some of the shipped examples being rather complex). Another team led by Christine Poerschke of Bloomberg looked at a way to avoid slightly different statistics being returned from different Solr replicas (which can cause result ordering to appear to 'jump') and Diego Ceccarelli looked at adding BM25F ranking to Lucene. Other groups looked at SQL streaming with Solr (committer Joel Bernstein dialed in via Skype to help) and Flax's Alan Woodward worked on Marple, a browser-based explorer for Lucene indexes. The day finished with a curry dinner kindly sponsored by Alfresco.
Several days later we ran a similar Hackday in Boston, as many Lucene people were in town for Lucene Revolution. Many more Lucene/Solr committers attended this time and enjoyed a chance to work on their own projects or to continue some of the work we'd started in London. Doug Turnbull came up with a way to do BM25F ranking with existing Lucene features while Alexandre Ravalovitch and I had a long conversation about minimal Solr examples and improving the way beginners can start with Solr. Other projects included new field types for Lucene, improved highlighters and DocValues. BA Insight were kind enough to provide the venue and Lucidworks sponsored drinks and snacks later in the pub downstairs.
We've gathered notes on what we worked on with links to some of the software we developed here – please do get involved if you can! In particular the Marple project is attracting further contributions (and interest from those who developed and maintain the existing Luke Lucene index inspector).
I'd like to thank everyone who came to the Hackdays, our generous sponsors for providing venues, food and drink and to those who helped organise the events. The feedback has been excellent (and do let us know if you have any further comments) and people seem keen for this to be a regular event before the annual Lucene Revolution conference – a chance to work on Lucene-based projects outside of regular work, to meet, network and spend time with other contributors and to enjoy being part of a great open source community. We'll be back!